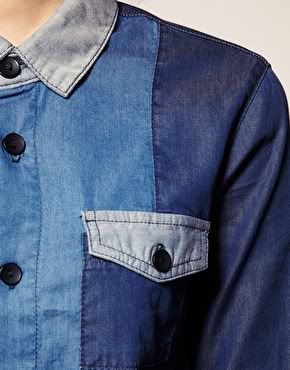 Ph. via
CÉLINE
/
Asos
CÉLINE
is
by far my favorite designer label
. Since it is a bit over of my budget, I am dreaming now and then about a
CÉLINE
piece.
At least, everyone is allowed to dream :-)
When I first saw the
denim pieces
of
CÉLINE,
earlier this year
in Paris
, it captured my heart.
And I was trying to find a way to get the
denim blouse
BUT since living in London isn't cheap at all, I had to admit that I cannot afford it. When I was checking
Asos
the other day, what I am doing at least every week like a routine, my eyes stopped at this
denim blouse
(second and third picture) and the only thing which came to my mind was
"... an affordable blouse inspired by the CÉLINE

one...

"
It didn't take me more than 5 seconds to order it. I am so excited because it's so similar to the
CÉLINE
one and I think it really catches up exactly the same style. Thanks
Asos
for making it happen, again.
GREAT GREAT GREAT...